Massachusetts Health & Hospital Association
and
Organization of Nurse Leaders MA, RI, NH, CT, VT (ONL)
Survey of Hospital Nurse Staffing Issues in Massachusetts, 2018 Highlights
The 2018 MHA/ONL Nursing Survey results are based on the responses of 55 out of the 85 (64.7%) hospitals that received the nursing survey data request in February 2019. The respondents included 47 acute care hospitals and eight (8) specialty hospitals. 
Response rates for specific survey questions may be fewer than 55 due to the fact that not all hospitals answered all the questions in the survey or submitted unusable data.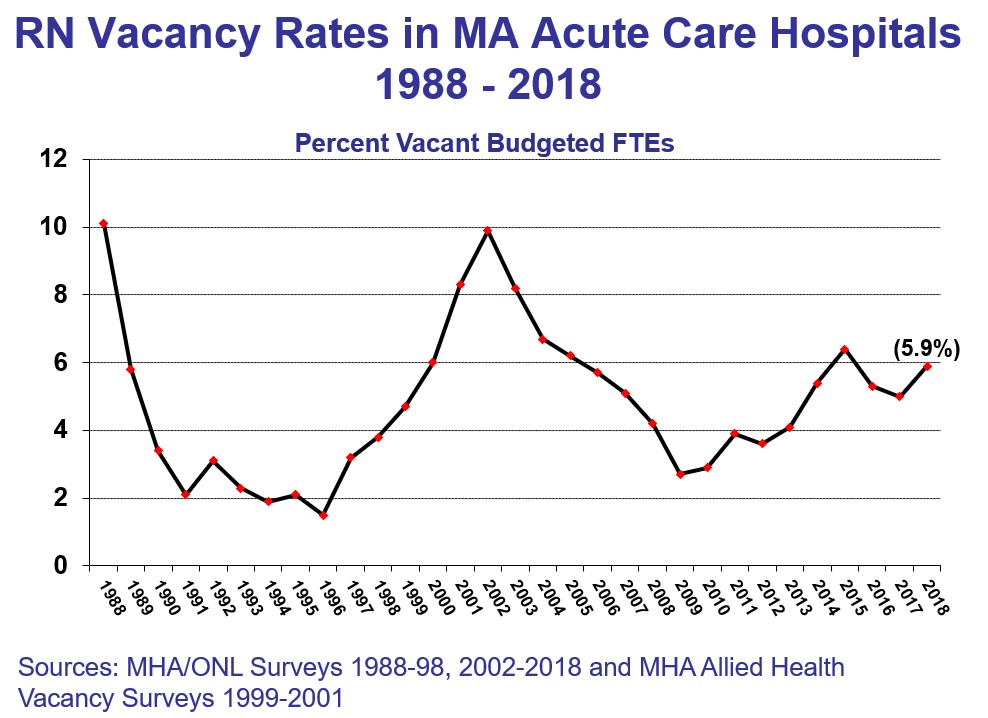 The vacancy rate for all Registered Nurses (RNs) in all responding hospitals was 5.9 %. Acute care hospitals also reported a 5.8% vacancy rate, and specialty hospitals reported a 7.3% rate.
The acute care hospital RN vacancy rate increased from the 2017 rate of 5.0 %, and now stands at 5.9.%. In 2018 the RN vacancy rate stands 0.6% above the median rate of 5.3% for the previous 10 years of data collection.  Vacant positions are covered by per diem nurses, staffing pools, on-call staff, overtime, and agency or traveler nurses.