Calling on every resident to do their part to stop addiction in its tracks, Governor Charlie Baker announced a second statewide media campaign today, with the bold goal of making Massachusetts" #StateWithoutStigMA." The campaign, built off one of the Governor's Opioid Working Group recommendations last June, is designed to impact the negative stereotype of drug misuse, asserting that addiction is not a choice, it's an illness.
"Addiction is a chronic illness, not a moral failure," said Governor Baker at a State House press conference, surrounded by people in recovery. "Studies show that stigmas can prevent people from getting into treatment—holding them back from recovery, stability and success. This campaign is another effort to bend the trend and change the way we think about opioid misuse and addiction."
---


Residents of cities and towns across Massachusetts are using social media to join the movement to make us a #StateWithoutStigMA! Don't see your city or town represented? Make it happen with just a few simple steps.
---

I support a #StateWithoutStigma. I understand that addiction is not a choice-- it's a disease. I pledge to join the movement against stigma by embracing those in need and showing compassion in how I think about, talk about, and treat people who struggle with addiction – empowering them to seek treatment and a successful recovery.
Take the Pledge...
---
On March 14, 2016 at the State House, Governor Charlie Baker signed landmark legislation into law to address the deadly opioid and heroin epidemic plaguing the Commonwealth and was joined by a robust group including Health and Human Services Secretary Marylou Sudders, Senate President Stanley Rosenberg, House Speaker Robert DeLeo, Attorney General Maura Healey, Auditor Suzanne Bump, members of the legislature, law enforcement, health care providers, community leaders, individuals in recovery and others. The bill, titled An Act relative to substance use, treatment, education and prevention, passed with unanimous votes in both legislative chambers and includes numerous recommendations from the Governor's opioid working group, including prevention education for students and doctors, and the first law in the nation to establish a seven day limit on first-time opioid prescriptions.
Based upon the recommendations of the Governor Baker's Opioid Working Group an action plan was created.
---

Resources:
What you need to know, June 2016.
Jointly issued by MHA and Massachusetts Medical Society, - It is recommended that patients are provided this form when a prescription opioid is issued .
Proposed recommendations for safe and appropriate storage of opioid medications within a patient's residence that may also be provided to patients when a prescription is issued.
Provides an overview of local and statewide appropriate and safe disposal options for opioids.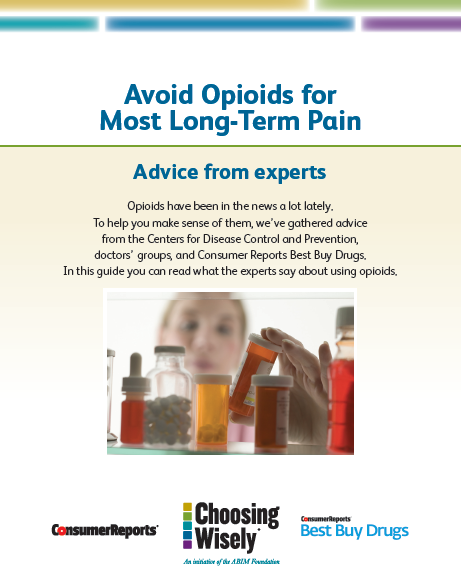 Opioids have been in the news a lot lately. To help you make sense of them, we've gathered advice from the Centers for Disease Control and Prevention, doctors' groups, and Consumer Reports Best Buy Drugs. Opioids can cause bad side effects. (See "Some Side Effects of Opioids.") But might be OK to use them for severe pain that lasts for a short time. This includes pain from surgery or a broken bone.
In this guide you can read what the experts say about using opioids.
 
Caregivers at Boston Medical Center (BMC) have released a study outlining how the hospital's Addiction Consult Service (ACS) may be making a significant dent in the problem of inpatients with substance use disorder (SUD) relapsing into addiction – and being readmitted – shortly after discharge. Numerous studies have shown that many inpatients (15% by one Massachusetts study) have an activ...

» Full Article

We are facing an epidemic of opioid addiction and overdose deaths in Massachusetts. Although these medications are effective when prescribed and taken appropriately, they can be misused and lead to significant negative consequences, including overdose and addiction. Some people who are addicted may even transition to heroin, which is less expensive and widely available. For youth, opioid addi...

» Full Article

When it comes to drugs and alcohol, many parents worry aboutinfluences from the outside world, like the media and their children's friends. But what can be found inside your home is just as important — youth say that the family home can be a major source of substances like prescription drugs, alcohol, and inhalants.Take a tour of your home >>>>Take steps to protect your children:...

» Full Article

BE A ROLE MODEL Teens watch their parents. Your example helps to guide their choices. BE CLEAR ABOUT YOUR EXPECTATIONS The most common reason young people give for not using alcohol and drugs is not wanting to harm their relationship with adults in their lives. SET LIMITS AND FOLLOW THROUGH Teens whose parents set clear rules and follow through with consequences are less likely t...

» Full Article