Healthcare Provider Data
Hospital Data
STAFFING PLANS
Voluntary unit-by-unit reports on caregiver staffing levels updated on an annual basis for over 750 hospital units including emergency departments.
STATEWIDE AGGREGATE PERFORMANCE MEASURES
Mortality
Readmission
CLABSI
INDIVIDUAL HOSPITAL PERFORMANCE MEASURES
Data on key hospital performance issues updated quarterly on pressure ulcers, patient falls, heart attack, heart failure, and more.
Home Health Agency Data
PERFORMANCE MEASURES
Data on individual home healthcare agencies' performance, including timely initiation of care, patient/family medication education, depression assessment, and more.
The Committee for Quality Hospital Care

The Committee for Quality Hospital Care has launched www.QualityHospitalCare.com that explains why government-mandated nurse staffing ratios are a bad idea and should be rejected by Massachusetts voters. See and hear front-line nurses from hospitals throughout Massachusetts discuss ratios in their own words.
News
MHA's 2nd Accountable Care Compass Awards
T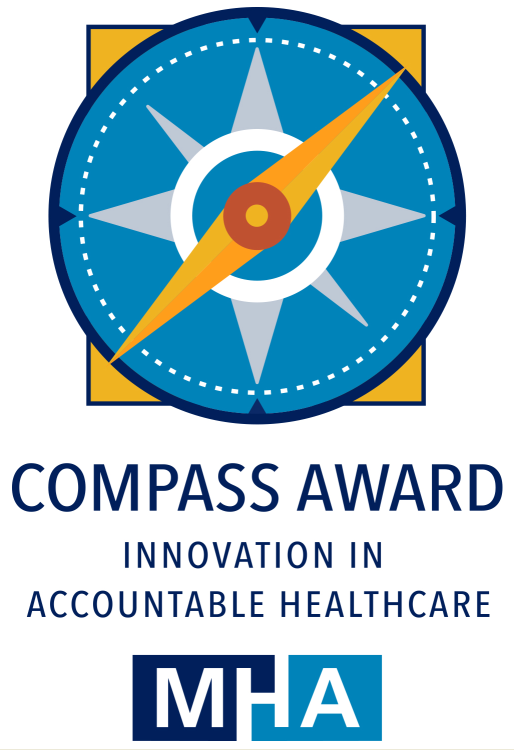 he Massachusetts Health & Hospital Association (MHA) March 9, 2017 held its second annual Accountable Care Compass Awards event, recognizing provider excellence and innovation statewide.
Read more about this years winners…
Last year MHA created a compendium of all 61 entries so that hospitals, physician groups, and others can learn about the various projects underway in Massachusetts, and use that knowledge to escalate progress in improving care.
Click here…to see last year's Compass Award Entries and Winners – 2015
---

Healthcare Planning: Take the 1st Step
Throughout the month of April, MHA is running a new campaign "Healthcare Planning: Take the 1st Step. The purpose of this campaign is to "inspire, educate and empower our employees, the public and providers about the importance of advance care planning" In the next five weekly Monday Reports a new section will be included covering different materials, resources, and related information surrounding advance healthcare planning.
1st Week: Campaign Kickoff – Read more…
2nd Week: Focus on Resources – Read more…
3rd Week: Laws, regulations, etc.
4th Week: Survey Results; member activity
5th Week: Wrap-up and Checklist
---
IT'S HERE! Today is the 10th Annual National Healthcare Decisions Day and the kick off of NHDD Week!
Thanks for all you have done to get us to this day and to make NHDD a HUGE success–again. NHDD is entirely grassroots, and you make it happen.
Schedule: As a reminder, here's the "official" schedule for NHDD Week (but, as always, you are free to roll out your engagement however you see fit):
— Sunday (4/16): Prepare — A day to get resources together
— Monday (4/17): Start with Yourself — A day to think about your own healthcare decisions
— Tuesday (4/18): Family/Friends/Loved Ones — A day to discuss your wishes with others (and learn their wishes)
— Wednesday (4/19): Spread the Word — A day to tell others that you've engaged in advance care planning and encourage them to do the same
— Thursday (4/20): Facilities Focus — A day for healthcare providers of all sorts to promote advance care planning
— Friday (4/21): Professionals Preparedness — A day to ensure that all professionals (healthcare, clergy, legal, and others) understand and can promote advance care planning
— Saturday (4/22): Reflection and Readiness — Consider what worked well for NHDD week and file/share your advance care plans so they will be available if needed
---
 Reducing Readmissions in Massachusetts: A New Report
In a state-of-the-state MHA report,  authored  by Patricia M. Noga, PhD, RN, Vice President, Clinical Affairs at MHA, Steven M. Defossez, MD, EMHL, V.P., Clinical Integration at MHA and Amy E. Boutwell, MD MPP, President, Collaborative Healthcare Strategies we look a generally accepted readmissions data, identify opportunities for improvement, and detail readmission reduction best practices now underway at Massachusetts hospitals.
On May 18, 2016 Pat Noga, PhD, RN, MBA, NEA-BC of Clinical Affairs at MHA conducted a webinar presentation and discussion on the above mentioned State of the State: Reducing Readmission in Massachusetts report.
Pat shared the key findings of the paper, which uses data to point out specific paths for improvement, and details some of the best readmission reduction practices now underway in the state.
During the webinar, Pat also discussed with the participants the types of readmission reduction strategies that their organizations have put into place and what has made a difference in reducing readmissions.
Click here for to access a recording of the May 18th webinar…
For Patients & Families
PatientCareLink (PCL)
PatientCareLink is more than data; it's about providing useful information to patients and their families. We hope that you will use this information to understand your hospital care and/or home health care, learn more about your care team, discover what your hospital or home health agency is doing to improve care, and find out how you can participate in making your care safer.
Understanding PatientCareLink Data
Evaluating Quality of Care
Who's Who on your Hospital Team
Who's Who on your Home Healthcare Team
Participating in your Care
Improving Patient Care
MHA Hospital Engagement Network (HEN):

MHA is leading an innovative statewide initiative to reduce inpatient harm, in association with AHA's Health Research & Educational Trust.
Read more here
Recent Reports of Adverse Events during Cataract Surgery in Massachusetts
Massachusetts has seen a recent increase in reports of Serious Reportable Events (SREs) associated with cataract surgery in hospitals and ambulatory surgical centers. Betsy Lehman Center is collaborating with the Department of Public Health (DPH), the Massachusetts Society of Eye Physicians and Surgeons (MSEPS), and the Massachusetts Society of Anesthesiologists (MSA) to alert ophthalmologists, anesthesiologists, and clinical managers about these adverse events. In addition, we are working to better understand the root causes of these incidents and to share strategies for reducing the risk of future harm to patients.