Health & Wellness Programs for Hospital Employees:  Results from a 2015 AHA Survey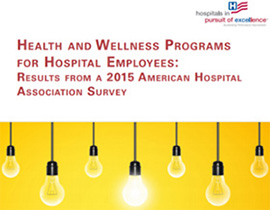 In line with provisions and incentives of the Affordable Care Act (ACA), hospitals and health systems are working with communities to address a range of health and health care delivery issues and to improve population
health. To help create a culture of health, hospitals and health systems can provide leadership, and hospital employees can be role models, for health and wellness in their communities. Developing health and wellness strategies and programs at hospitals will help establish an environment that provides the support, resources and incentives for hospital employees to serve as such role models.
---
Workforce Competitiveness Trust Fund Funding RFP to be Released End of September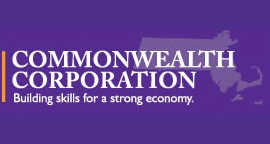 The Fiscal Year 2016 budget included a line item for the Workforce Competitiveness Trust Fund.  Working with the Executive Office of Labor and Workforce Development, Commonwealth Corporation plans to issue a request for proposals in late September.  In order to allow prospective applicants additional time to prepare for this round of funding we are issuing the following summary.
---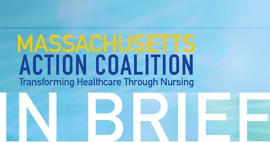 In 2010, the Institute of Medicine (IOM) issued a landmark report and evidence-based recommendations on the important role nursing will play in our nation's health care transformation.
To meet growing health care demands and challenges and to serve patients better, we need to change how nurses are educated, trained, and practice.
The Massachusetts Action Coalition is one of 51 coalitions working nationwide to advance nursing to meet current and future health care. Our goals are to:
Increase the percentage of Massachusetts nurses with baccalaureate and higher degrees who can manage increasingly complex patients and health system challenges in all practice settings
Strengthen education and training so nurses in Massachusetts can meet the growing needs of an aging and ethnically diverse patient population
Improve access to higher levels of nursing education by facilitating transfer of credits between degree programs and ensuring there is sufficient nursing faculty in our schools
Eliminate outdated regulatory barriers and organizational policies that limit nurses from practicing to the full extent of their education and training
Improve data collection and analysis to better understand nursing workforce supply and demand
---
CHANGING THE CONVERSATION:  Accelerating Workforce Transformation in Healthcare
Hospitals and health systems need to accelerate workforce transformation so that they can be successful in making the wide-scale changes needed to redesign healthcare. To gain greater understanding of the realities of workforce needs and challenges over the next 3-5 years, the Massachusetts Hospital Association (MHA), funded by a Workforce Transformation Planning Grant, interviewed a diverse sample of leaders at Massachusetts healthcare organizations and conducted a broad survey of its membership. A complex picture of emerging knowledge, science, and roles emerged, converging on the changing healthcare delivery system. Most of the 459,000 healthcare workers in Massachusetts 1 have been prepared for a model of care that has been hospital-centric. Yet, shifting sites of care, accountability for care management, a more patient-centered focus, and new skills in team care are driving the need for change.
---
Massachusetts Coalition Receives $300,000 to Advance Nurse Education and Build More Diverse Nursing Workforce
Massachusetts is one of nine states awarded a $300,000 grant from the Robert Wood Johnson Foundation (RWJF) to create a more highly educated, diverse nursing workforce. This is the second RWJF grant, part of its national Academic Progression in Nursing (APIN) initiative, to support Massachusetts' efforts to make it easier for current and future nurses to advance their education to the BSN or higher degree.
---
The U.S. health care system faces growing challenges - the U.S. population is aging at a rapid rate; health care reform is expected to bring millions more patients into the system; and there are anticipated shortages in numbers of trained health care professionals to care for these patients. Therefore, the need to start now to develop more effective and efficient workforce planning models (WPMs) for health care organizations is critical.
This white paper contains both important data and insights as well as an assessment tool that will help organizations develop effective WPMs-and support excellent patient care and strengthen the U.S. health care system. By reading through this document in its entirety and completing the assessment in full, organizations can better define their needs as well as find new ways to improve their recruiting, sourcing, retention, retirement, and onboarding strategies, and use this information to refine their WPMs.
---

Through the Eyes of the Workforce:  Creating Joy, Meaning, and Safer Health Care
Workplace safety is inextricably linked to patient safety. Unless caregivers are given the protection, respect, and support they need, they are more likely to make errors, fail to follow safe practices, and not work well in teams. A new report from the Lucian Leape Institute looks at the current state of health care as a workplace, highlights vulnerabilities common in health care organizations, discusses the costs of inaction, and outlines what a healthy and safe workplace would look like. The report concludes with seven recommendations for actions that organizations need to pursue to effect real change.
---
This report serves as the final product of a project called Skills Gap: Supply and Demand in the Massachusetts Economy," a joint venture of the New England Public Policy Center of the Federal Reserve Bank of Boston and Commonwealth Corporation. The collaboration has included a series of detailed profiles documenting labor market conditions in eight regions of the state, and eight regional convenings of business, education, workforce, and government leaders to discuss the data, share experiences and best practices, and consider action steps.
---
MHA and ONL, in cooperation with many partners and collaborators, are leading the way to address the future nursing shortage in the Bay State.
---
The e-newsletter examines important nursing issues through the consumer lens and features recent work and useful Web content.  The CCNA, a consumer-driven, national force for change, works to increase the nation's capacity to educate and retain nurses who are prepared and empowered to positively influence healthcare access, quality, and costs.
---
Facts about the Nursing Workforce
A new fact sheet from the Robert Wood Johnson Foundation offers a wealth of hard data on the nursing workforce-how many nurses are at work today, what their educational backgrounds are, how diverse the nursing population is, what the employment trends are, how big the nursing gap will be in a few years, and more.
---
Our Workforce Needs
Our healthcare system needs an abundant supply of well-trained caregivers - physicians, nurses, and allied health professionals - to deliver accessible, high quality, affordable care. But forecasting our healthcare workforce needs and designing policies and programs to match those needs is challenging. Read More...
---
It Takes a Team: Who's Who on your Healthcare Provider Team
First and foremost, each patient has a nurse assigned to him or her at all times - 24 hours a day, seven days a week. This "primary nurse" works closely with your doctor to oversee and coordinate your care. Even when your nurse is on break, there is a nurse assigned to be responsible for your safe care. The nurse develops a plan for each of his or her patients and leads a team that helps with your care.
Our communities must work together to combat all forms of violence, now viewed as one of the major public health and safety issues throughout the country. Community action programs such as those being undertaken by our nation's hospitals and health systems (alone and with others) are needed now more than ever to help address violence and the toll it takes on our communities and hospital collea...

» Full Article

In 2010, the Institute of Medicine (IOM) issued a landmark report and evidence-based recommendations on the important role nursing will play in our nation's health care transformation. To meet growing health care demands and challenges and to serve patients better, we need to change how nurses are educated, trained, and practice. The Massachusetts Action Coalition is one of 51 coalitions wor...

» Full Article

Prime Scholarships Now AvailableThe Prime Scholarship is for students intending to pursue a career as a nurse upon graduation. The scholarship is open to applicants working toward a two year or four year college degree. Follow this link to see the site page and downloadable application. New Nursing Request for Proposals (RFP) has Been ReleasedCheck out on Department of Higher Education  websit...

» Full Article

Massachusetts Health & Hospital Association & Organization of Nurse Leaders MA, RI, NH, CT & VT Survey of Hospital Nurse Staffing Issues in Massachusetts, 2016 Highlights The vacancy rate for Registered Nurses (RNs) in all responding hospitals was 5.3 %. Acute care hospitals also reported a 5.3 % vacancy rate, and specialty hospitals reported a 6.8 % rate. The acute care hospital R...

» Full Article

Job Seekers:Find your next Massachusetts hospital or health care job on MAHospitalCareers.com! Sponsored by the Massachusetts Hospital Association, MAHospitalCareers.com helps you locate jobs in nursing, physical therapy, radiology, orthopedics and much more. Search for health care jobs, register for free emailed job alerts, research Massachusetts hospitals and learn about Massachusetts healthca...

» Full Article

Medically Induced Trauma Support Services (MITSS) Provides Tools for Building a Clinician and Staff Support ProgramMITSS (Medically Induced Trauma Support Services) is a non-profit organization whose mission is to support healing and restore hope to patients, families, and clinicians impacted by medical errors and adverse medical events. Their website was created in order to share tools which th...

» Full Article

MHA strongly supports the goals of having a healthy workforce, which includes providing the necessary immunizations to ensure that our staff and our patients are protected. We strongly support mandatory flu vaccination for all healthcare providers.  Healthcare providers are the front-line stewards of public health and we believe that our commitment to safe patient care should carry the day in...

» Full Article